I actually posted this info back then but it was just a small glimpse at it, but now I think I will post this in full detail because some of you were interested.
What is Royal Alchemists?
Basically it is kinda like the Dan tests where you compete against the other people in the same server for special positions. Only 100 will be chosen as the Royal Alchemists, with benefits being a Royal Alchemist.
Benefits of being a Royal Alchemist
1. You get a special title: Royal Alchemist (Crystal Making Success +1%, Synthesis Success +1%, Fragmentation Success +1%, Water Type Alchemy +15 Dmg, Fire Type Alchemy +5 Dmg).
2. You get 50 points on the Achievement Journal.
3. Special Royal Alchemy Uniform and Boots (Free for 1st time, if you want more it will cost 20W and 10W respectively). you cannot Dye nor Upgrade the Clothing, it comes as 6/4 clothing with the following enchants already enchanted:
Cloth: Moist(Water Type Alchemy + 27 Dmg), Scholar(Crystal Making Success +3%, Synthesis Success +3%)
Boots: Hot(Fire Type Alchemy +5 Dmg), Flood(Water Type Alchemy + 12 Dmg)
All these Enchants are Strictly on Royal Alchemist enchanted only, so is pointless to burn it out. You can only wear this if you have the Royal Alchemist position, and wont be able to equip it if you lose the position (Bankable and Can be Destroyed).
4. You are allowed to join/help out others on Mainstream missions that is limited to one person only from G9~12.
5. Discover Upgrades for Cylinders Like Seal Stones, that upgrade will have your name on it e.g. Astro's Water Pressure Upgrade 1. (Discovering is completely random, the person in KR discovered Water Pressure Upgrade 1 was using Earth type cylinder and using the Summon Golem Skill).
The upgrades are the following:
Water Pressure Upgrade 1, Water Pressure Upgrade 2, Water Pressure Upgrade 3, Water Pressure Upgrade 4, Water Pressure Upgrade 5.
Fire Power Enhance 1, Fire Power Enhance 2, Fire Power Enhance 3, Fire Power Enhance 4.
Barrier Strengthen 1, Barrier Strengthen 2, Barrier Strengthen 3, Barrier Strengthen 4, Barrier Strengthen 5.
Freeze Range Enhance 1, Freeze Power Enhance 1, Freeze Power Enhance 2.
Light Weight Change 1, Light Weight Change 2, Light Weight Change 3, Light Weight Change 4, Light Weight Change 5.
6. Special Standing Position when 1. Wear the Cylinder with the Uniform or 2. Wear the Title with Cylinder. (See Picture)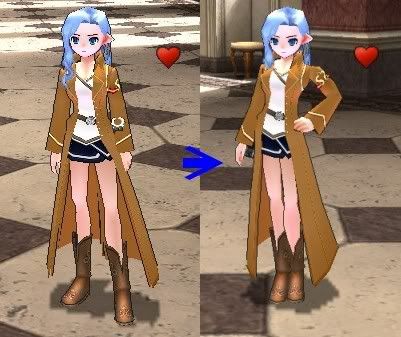 7. Special Shadow Missions that give more Quest Points (Used to keep the position for Royal Alchemist, see later explaination).
How to be a Royal Alchemist
So, with all that goodies how do you become a Royal Alchemist? Simple, you just have to apply for at the NPC (Sinead) later introduced in G10. There is however the minimum requirement that you need to have at least rank B Alchemy mastery. The system will decide every Saturday morning at 12:00:00 AM the TOP 100 Applicants (This means existing Alchemists and new applicants). The Position will be based on your Alchemy skill ranks as well as the points from the Achievement Journal (See the other thread for the list of achievement points). The exact determination for the algorithm is unknown (Whether the Skill weights more or the Points weights more). You will be notified by mail if you have been selected as a Royal Alchemist, you must talk to the NPC to receive the title and the uniform.
How to remain as a Royal Alchemist
Just being selected doesn't mean you will keep the position forever, you must work to keep your position! There are something called Quest Points that you must gain in order to keep your position as a Royal Alchemist. The minimum amount is 60 points before the next Saturday 12:00:00 AM. How do one get the points? Well, there's a couple ways:
1. Stay Online 1 Hour gain you 1 Point, 24 Points Possible per day.
2. Shadow Missions and Cooking Dungeon completion, each will gain you 1 points (Limited 10 points per day this way, no difficulty restriction).
3. Help other on Mainstream Solo Quests in G9~12, each will gain you 5 points (Limited 10 points per day this way, no difficulty restriction).
4. Special Shadow Mission for Royal Alchemists. Only one per day in real life, points vary from 6~9.
However, there are also way in which you lose points!
1. After 48 hours without login in you will lose 1 point for every 2 hours, maximum up to 12 points.
Finally, even if you have achieved 60 points, you may still lose your position if you are longer the TOP 100 applicants.